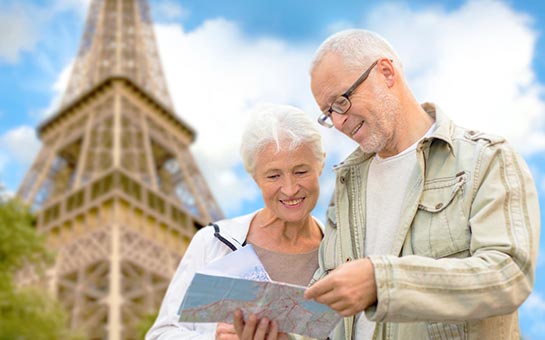 GlobeHopper Senior insurance a comprehensive travel medical insurance for U.S. citizens and U.S. permanent residents traveling outside the U.S.
GlobeHopper Senior is administered by International Medical Group (IMG). GlobeHopper Senior travel insurance is underwritten by Sirius International and it is rated A "Excellent" by A.M. Best. GlobeHopper Senior is a new type of travel medical insurance from IMG, separate from the Patriot series of products.
People from the ages of 65 to 79 years can purchase up to $1,000,000 policy maximum. For the 80+ ages, the coverage is limited to $100,000. The coverage limits are lot higher compared to the other plans for such ages. You can choose the deductibles ranging from $0 to $2,500.
GlobeHopper Senior can be purchased either for Single Trip or Multi Trip. GlobeHopper Senior can be purchased from 5 days to 365 days. You can purchase GlobeHopper Senior insurance online on this website or by completing an application over the phone. Either way, you will receive an extension notice in an email. You can extend online at that time or you can call us.
GlobeHopper Senior travelers insurance brochure provides the details of coverage and exclusions. GlobeHopper Senior travel insurance provides instant quotes, and you can make instant purchase with a credit card payment. There is no medical exam needed. The application requires date of birth, passport number, name and travel dates of the traveler.