Updated Tuesday, May 2, 2023
On November 8, 2021, the US government lifted its travel ban restrictions for fully vaccinated foreign travelers to the US.
Prior to Nov 8, 2021, the travel ban applied to all passengers who had been in any of the 33 countries including China, Iran, 26 Schengen Countries in Europe, the United Kingdom, Ireland, Brazil, South Africa and India within the last 14 days.
Approved Vaccines for Travel to the US
The White House announced on May 1 that it is ending its COVID-19 vaccination requirement for incoming visitors on May 11, 2023. Travelers arriving in the US after May 11 will no longer need to show proof of coronavirus vaccination.
If the person is required to be fully vaccinated, the vaccine must be approved either by the US FDA (Food and Drug Administration), WHO (World Health Organization) or both.
As of January 14, 2022, the following vaccines are approved by the WHO and/or US FDA:
Pfizer-BioNTech – Approved by both FDA as well as WHO
Moderna – Approved by both FDA as well as WHO
Janssen (Johnson & Johnson) – Approved by both FDA as well as WHO
Oxford/AstraZeneca – Approved by WHO
COVOVAX - Approved by WHO
Novavax - Approved by WHO
CoviShield - Approved by WHO
Covaxin - Approved by WHO
Sinopharm BBIBP-CorV - Approved by WHO
CoronaVac - Approved by WHO
To be considered fully vaccinated, you must have taken all applicable doses at least 14 days before traveling to the US.
Meaning of "Fully Vaccinated" for Coronavirus
All applicable travelers are required to be fully vaccinated to travel to the US. All vaccines listed above consist of two doses, except for Janssen (Johnson & Johnson), which has one dose.
This means, for Janssen, you must have taken the one and only dose. For all other vaccines, you must have taken both doses. At least 14 days must have passed since having taken the last required dose.
Even if you were infected with COVID-19 earlier and you have recovered, you are required to have taken all doses of the vaccine to be considered fully vaccinated. That means, if you recovered from COVID-19 and you have taken only one dose of CoviShield, it is not acceptable proof of being fully vaccinated.
Acceptable Proof of COVID-19 Vaccination
Acceptable proof of COVID-19 vaccination will vary, as different countries have been providing different proof. E.g., the US provides a small paper card. India provides a full-page proof along with the barcode.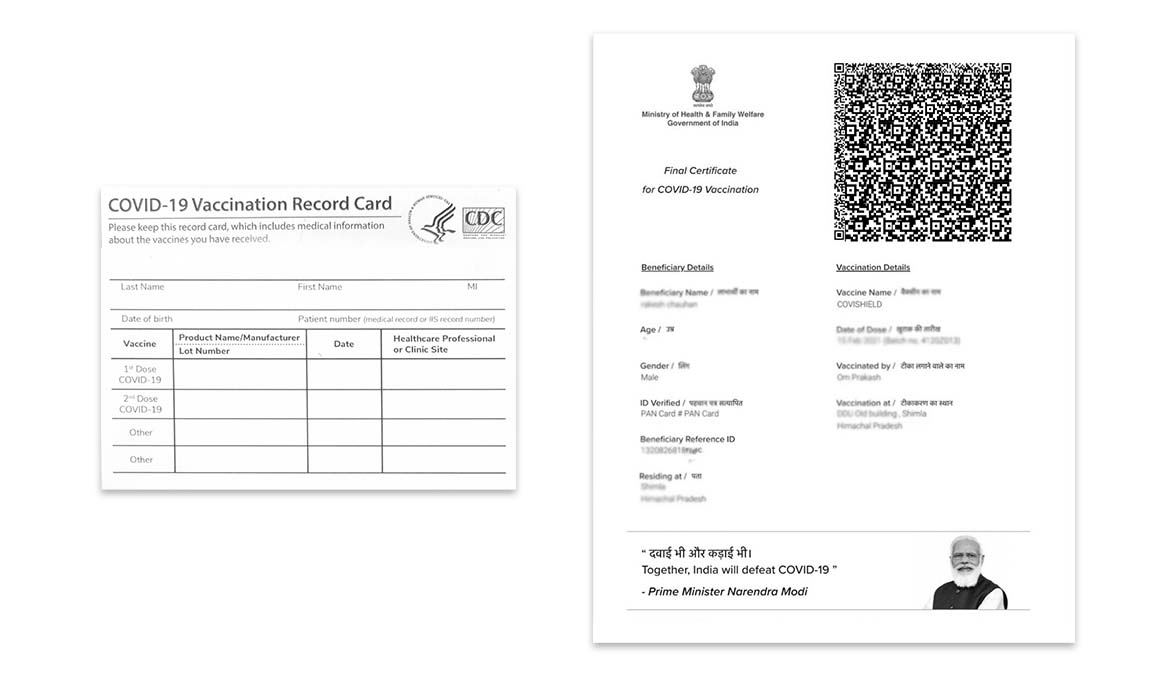 In any case, the proof of vaccination should match the name and date of birth exactly as on your passport. Additionally, it should have necessary information such as vaccine name, dates of vaccinations, batch number etc.
The liability to verify the proof of COVID-19 vaccine lies with the airline. Failure to follow the compliance requirements may incur fines up to $35,000 per violation. Many airlines have already developed a system where ticketholders can upload their proof of vaccination on the airline's website in advance.
Persons Exempted from Coronavirus Vaccine Requirements
Children under the age of 18 years.
Travelers on diplomatic or official foreign government business.
Travelers who are residents of a foreign country who have limited vaccine availability and generally less than 10% of their population is vaccinated. This requirement can change from time to time by CDC. They must be traveling on a nonimmigrant visa other than B-2 (Visitor) or B-1 (Business) visa.
Travelers who are participants in certain COVID-19 trials.
Travelers that have documented medical contradictions to receiving a COVID-19 vaccine.
Travelers that are sea crew members traveling on a C-1/D nonimmigrant visa.
Travelers who are issued a humanitarian or emergency exception.
Persons whose entry would be in the national interest, as determined by the Secretary of State, Secretary of Transportation, or Secretary of Homeland Security or their designees.
Travelers that are members of the United States Armed Forces, or are spouses or children of a member of the United States Armed Forces.
However, if any of the abovementioned persons are traveling to the US for 60 days or longer and they are eligible to get vaccinated, they must agree to get vaccinated within 60 days of arrival to the US.
Coronavirus Testing Requirements for Travel to the US
On June 10, 2022, the US Centers for Disease Control and Prevention announced that it is ending the COVID-19 testing requirement for international visitors to the United States as of midnight on June 12. After this date, international air travelers are no longer required to present a negative COVID-19 test to enter the US.
Other Requirements for Travel to the US
Travelers must provide their phone number and email address for contact tracing.
Vaccination and Test Requirements for US Citizens and Permanent Residents Entering the US
US citizens and US permanent residents (Green Card holders) are not required to be vaccinated to travel to the US. However, they are highly recommended to do so. The testing requirement has also ended for US citizens and permanent residents.
The Importance of Visitors Insurance
Although the guidelines for visitors to the USA do not include a mandate to purchase travel medical insurance, it is highly recommended. The U.S. is still experiencing more than 100,000 new coronavirus cases daily, and "breakthrough" cases, where fully vaccinated individuals still contract the virus, are possible.
The cost of healthcare in the US is extremely high; it is simply not possible for most visitors to afford medical treatment without insurance.
Plus, COVID-19 is far from the only reason you should purchase insurance while visiting the U.S., or for your parents or family members coming to visit you. The many reasons people needed insurance before the pandemic are just as valid today. Broken bones, the flu, car accidents, food poisoning, a twisted ankle; any number of issues could require a trip to the hospital or doctor, and result in a massive bill if you do not have insurance.
After being separated from your loved ones for so long, you cannot take the chance of going without coverage. Purchase visitors insurance for the full duration of the trip, so you have the peace of mind that coverage can provide.
Most visitors insurance plans can cover COVID-19 just like any other new sickness that occurs after the effective date of the policy. They can include coverage for emergency medical expenses, the acute onset of pre-existing conditions, emergency medical evacuation, PPO network participation, and other ancillary benefits, depending upon the plan you choose.
While you may be in a rush to reunite with your family, take the time to purchase appropriate insurance to protect their health, and your finances.
Can't find answers to your questions?
Ask our specialists - Licensed and experienced insurance professionals in the U.S.
Ask Our Specialists