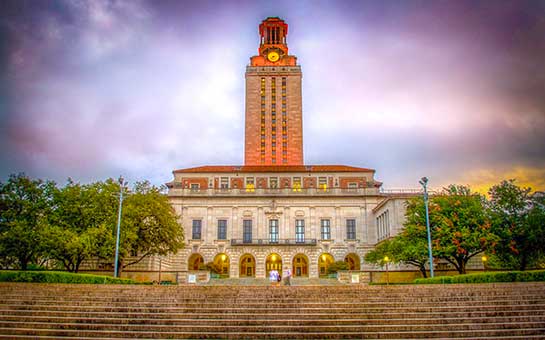 University of Texas at Austin International Student Insurance
The University of Texas at Austin, located in Austin, Texas, was established in 1881 by an act of the state legislature. It opened its doors to students in 1883, and the first semester's worth of classes were held in the temporary Texas Capitol building. The university found an unexpected source of funding in 1923 when an oil rig built on land set aside for education funding struck pay dirt. The proceeds from the well went into the university, and in the 1920s and 1930s, the campus saw construction of 23 new buildings, including its most famous landmark—the Tower. In 1967, the school's name changed from the University of Texas to the University of Texas at Austin to convey the growth of the UT System.
Today, UT-Austin enrolls more than 50,000 students and counting each year, consistently ranking among the top ten universities in the U.S. by enrollment. The school colors are burnt orange and white, and its athletic nickname is the Longhorns.
UT-Austin Academic and Campus Offerings
UT-Austin offers more than 100 undergraduate and more than 170 graduate degrees across its 18 academic divisions. Notable colleges and schools include the Cockrell School of Engineering, the College of Liberal Arts, the Moody College of Communication, the School of Law, the Dell Medical School, and the School of Architecture. Other academic units on campus include the Institute for Computational Engineering and Sciences and the James A. Michener Center for Writers.
Informally known as the Forty Acres, the main campus boasts multiple points of interest. The University of Texas Tower stands at 307 feet and is lit bright orange following athletic victories. The Lyndon Baines Johnson Library and Museum opened in 1971 and was the first presidential library on a college campus. A turtle pond near the main building serves as a memorial to those killed and wounded in Charles Whitman's 1966 shooting spree. The Blanton Museum of Art opened in 2006 and houses more than 18,000 works of art. The Harry Ransom Humanities Research Center holds among its archives one of about 20 remaining complete copies of the Gutenberg Bible and the first permanent photograph ever taken, "View from the Window at Le Gras," which dates back to the late 1820s.
Notable Alumni
Notable University of Texas at Austin alumni and attendees include Former U.S. First Lady Laura Bush, actresses Renee Zellweger and Marcia Gay Harden; actor Matthew McConaughey; MLB pitcher Roger Clemens; famed journalist Walter Cronkite; actress Farah Fawcett; popular astrophysicist Neil deGrasse Tyson; founder of Dell Computers Michael Dell; and film director Wes Anderson.