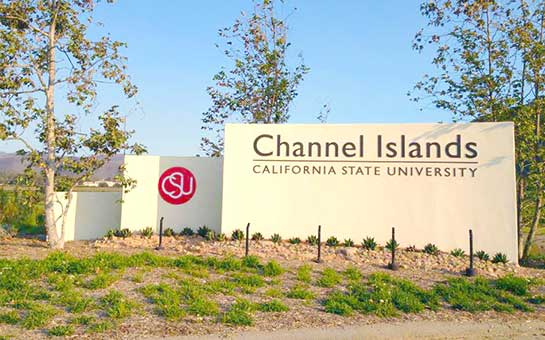 California State University Channel Islands International Student Insurance
California State University Channel Islands (CSUCI) is a public university based in Ventura County, California. This is the 23rd campus of the California State University system and has been operational since 2002.
One special distinction in the many-feathered cap of CSUCI is that it was ranked fifth among more than 1,400 colleges across the U.S. in the "Social Mobility Index (SMI)" in 2019. This means that the university has been instrumental in providing educational opportunities to the economically-challenged population, at a much-subsidized cost. About 60% of the student body are first-generation college students, and more than 80% of the students receive some form of financial aid.
The university seeks to create a multicultural learning atmosphere that follows a truly global curriculum. It asks students to approach their education with an integrative and inclusive outlook with the end goal of community engagement and development.
California State University Channel Islands Academic and Research Opportunities
The university offers more than 50 bachelor's degrees and 6 master's degrees. A dedicated team of more than 400 faculty members mentors the students in every aspect of education and research. The student-faculty ratio is 22:1. Some of the university's main programs are:
Undergraduate
B.S. in Biology
B.S. in Chemistry
B.S. in Computer Science
B.S. in Business
B.A. in Economics
B.S. in Mathematics
Graduate
MBA
M.A. in Education
M.S. in Biotechnology
M.S. in Mathematics
Numerous necessary student services like academic advising, career development, health services, and other support systems are available on the campus.
Health Risks for California State University Channel Islands International Students
The CSUCI campus is among the safest in the country. Round-the-clock security and student assistance services are always at hand. As for the city, the crime rate is lower than many similar locations in the U.S., so you need not worry too much. Adopt standard, common-sense safety procedures like avoiding desolate locations at night or when you are alone.
Camarillo has plenty to offer by way of sightseeing and weekend activities. Visit the aviation museum, take a wine tour, check out the farmers' market, hike the Hill Canyon Trail – or simply relax at Channel Islands National Park by the ocean.
The area is prone to certain natural disaster hazards like earthquakes and storms. These won't be of much concern when you are on campus. But while you are outdoors, enjoying the sights and sounds of Camarillo and mainland California, be sure to keep an eye on the weather reports.
Cover Your Risks with Health Insurance for California State University Channel Islands
For international students studying in the U.S., adequate health insurance is a necessity. Healthcare expenses in California—or, for that matter, anywhere in the U.S.—are high. Insurance acts as a buffer against the high costs of treatment during a medical emergency.
Both the university itself and federal law require international students to have health insurance before attending. As an international student who is already spending a lot of money on tuition and fees, you would surely look for an affordable medical insurance plan for international students in the U.S. You will get a better frame of reference regarding pricing and benefits from various international student insurance review articles.
International Student Health Insurance for California State University Channel Islands, Camarillo
Do international students need health insurance before attending California State University Channel Islands?
As per the rules of CSUCI, international students must have health insurance before they can join any program of the university.
What's the need for California State University Channel Islands health insurance for international students?
Unexpected illnesses, accidents, and injuries can catch you by surprise. But to get them treated, you would need to shell out a large amount of money (especially in the U.S.). To save yourself from such an unfortunate circumstance, you need to have health insurance coverage to stay protected.
How do I find the best student health insurance for California State University Channel Islands?
It's simple. Check out the various options available to you. Compare plans, and select the one with a low premium and a reasonable range of benefits. Make sure the plan you choose meets all of the university requirements for insurance.