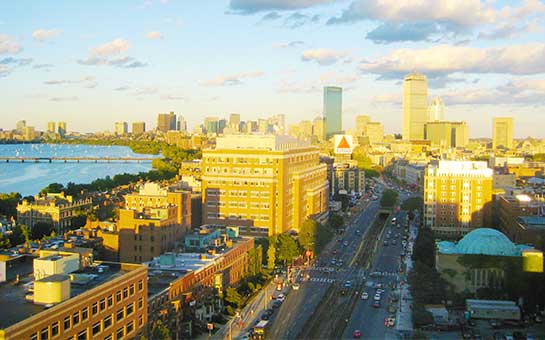 Boston University International Student Insurance

General Information
Boston University, located in Boston, Massachusetts, was established in 1839. It opened as a Methodist theological school in Vermont but moved to Boston in 1867. It was one of the first higher-education institutions in the U.S. to admit African-American and international students, and the first in Massachusetts to award degrees to women. Helen Magill White was the first woman in the United States to receive a Ph.D. upon her graduation in 1877. Today, BU enrolls almost 35,000 students and counting each year. The school's colors are scarlet and white, and its athletic nickname is the terriers.
On Campus
Professional programs at BU include the School of Law, the School of Medicine, the Goldman School of Dental Medicine, and the School of Management. The Mugar Memorial Library, the main library on campus, has about 1.9 million volumes and in its archives houses the papers of composer Franz Liszt, former U.S. President Theodore Roosevelt, and poet Robert Frost. The school also operates campuses in London, England; Los Angeles, California; Paris, France; Washington, D.C.; and Sydney, Australia.
In 1876, Boston University researcher Alexander Graham Bell invented the telephone in a laboratory on campus. Today, notable research initiatives include the Center for Computational Science, which houses the SGI/Cray Origin2000 parallel supercomputer, and the Center for Integrated Life Sciences & Engineering.
Notable Alumni
Some noteworthy Boston University alumni include Martin Luther King, Jr.; U.S. Congresswoman Barbara Jordan; actresses Faye Dunaway, Marisa Tomei, Julianne Moore, and Rosie O'Donnell; podcaster Marc Maron; journalists Bill O'Reilly and Howard Stern; and poet Anne Sexton.