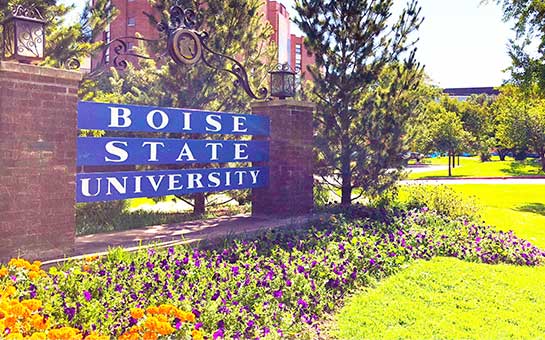 Boise State University International Student Insurance
Boise State University, located in Boise, Idaho, was established in 1932. It was founded by the Episcopal Church as Boise Junior College. It became a four-year college in 1965, entered the state system of higher education as Boise State College in 1969, and gained its current name in 1974. It also operates satellite campuses in Nampa, Idaho; Twin Falls, Idaho; Coeur d'Alene, Idaho; and at Mountain Home Air Force Base in Mountain Home, Idaho. BSU enrolls more than 25,000 students and counting each year. The school's colors are blue and orange, and its athletic mascot is the bronco.
On Campus
Notable research programs based at BSU include the Idaho Council on Economic Education, the Center for Idaho History and Politics, and the Raptor Research Center. The school offers several unique interdisciplinary minor programs like addiction studies, Canadian studies, conflict management and dispute resolution, legal assistance, and gender studies. It's also known for publishing the Western Writers Series, which highlights pieces about the American Frontier and the American West.
One noteworthy campus feature is the blue Astroturf inside Albertsons Stadium, stylized as "THE BLUE."
Notable Alumni
Notable Boise State University alumni include Steve Appleton, Chairman and CEO of Micron Technology; Butch Otter, former Governor of Idaho; actor Earl Bowen; author William Anderson; musician Michelle Willis; and film director Michael Hoffman.