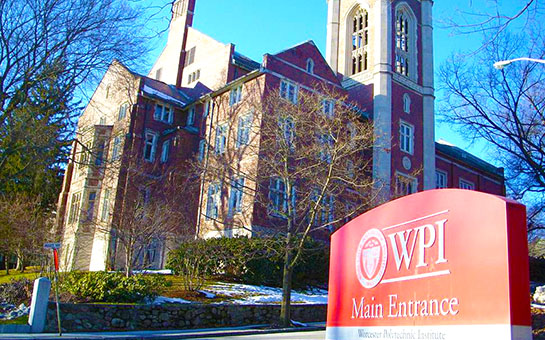 Worcester Polytechnic Institute International Student Insurance
Worcester Polytechnic Institute (WPI) is among the country's oldest engineering and technology universities. Established in 1865 by two self-made businessmen who wanted to spread technical and science education among the masses, the founders felt that they could herald a new generation to take up the challenge of developing industries of all kinds around the world.
For more than 150 years, WPI has successfully realized the vision of its founders. The four schools, Business, Arts & Sciences, Global, and Engineering, create an atmosphere of holistic learning. The education imparted is based on experiential learning, thus empowering the students with the skills to create solutions for real-world problems.
Worcester Polytechnic Institute Academic and Research Opportunities
The pedagogy at WPI is a harmony of gathering theoretical knowledge and then applying it practically. Students are encouraged to be proactive in their quest for knowledge, with adequate support from dedicated and highly qualified faculty members. The project-based curriculum at WPI has been the recipient of prestigious awards, indicating its effectiveness.
Here are a few of the programs offered at WPI:
Undergraduate
Chemical Engineering
Data Science
Industrial Engineering
Business
Graduate
Environmental Engineering
Medicinal Plant Chemistry
Interactive Media & Game Development
Electrical & Computer Engineering
WPI offers an astounding array of over 20 disciplines for pursuing a Ph.D. Along with this, students can also choose from a range of online courses and certificate programs.
Health Risks for Worcester Polytechnic Institute International Students
Massachusetts is home to some pristine beaches, especially in the Cape Cod area. Some of these are fairly uncrowded and allow you to have undisturbed swims. While this is an attractive proposition, do be careful. It's better not to swim if there is no one around, especially when seas are rough.
Massachusetts winters can be extremely cold, so stay adequately protected with proper clothing and insulated, grippy footwear. Properly preparing for winter can reduce your chances of illness from the cold, or injury from slipping and falling.
Cover Your Risks with Health Insurance for Worcester Polytechnic Institute
For students studying abroad, health insurance is a must-have. It protects you from being solely responsible for unaffordable medical bills, should you require treatment.
International Student Health Insurance for Worcester Polytechnic Institute – FAQs
Do international students need health insurance before joining Worcester Polytechnic Institute?
Yes, it is compulsory for international students to have health insurance before joining any program on campus. Students might opt for the international student health insurance plan of Worcester Polytechnic Institute, or waive it and choose a third-party option.
What's the need for Worcester Polytechnic Institute health insurance for international students?
There is no way to predict when you might need medical care while at WPI. But if you do, plan on it being extremely expensive. In the U.S., medical treatment simply isn't affordable to pay for on your own. Therefore, it's better to stay financially protected with health insurance.
How to find the best student health insurance for Worcester Polytechnic Institute?
The right insurance for you will depend on your visa status, school requirements, and your individual needs. You can view the requirements below, but only you can determine the level of coverage you're personally comfortable with.
It is recommended that you compare a variety of plans, and read the fine print to understand their differences. Using the information below and your knowledge of your personal health needs, you can choose the plan that provides the best combination of coverage and affordability.