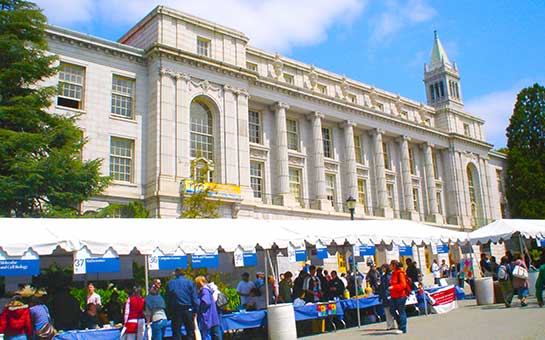 University of California, Berkeley, International Student Insurance
The University of California, Berkeley is a public research university that was founded in 1868. The university welcomes students from across the world, enrolling thousands of undergraduate and graduate students every year. It offers over 350 degree programs in its 14 colleges.
The university is also one of the 14 founding members of the prestigious Association of American Universities.
Over 75% of the students at UC Berkley are undergraduates, which makes the university campus youthful and vibrant. The diverse community in the campus includes students belonging to numerous nations, ethnic groups, and varied religious backgrounds.
Given the university's urban surroundings, you'll find plenty of fun activities in your spare time.
University of California, Berkeley Research and Academic Opportunities
University of California, Berkeley hosts many leading research organizations, including the Mathematical Sciences Research Institutes and the Space Sciences Laboratory.
The most popular majors the university offers are:
Electrical Engineering
Computer Science
Political Science
Molecular and Cell Biology
Environmental Science
Economics
The university is classified among R1: Doctoral Universities. This means the university facilitates high-level research activities.
It houses more than 80 interdisciplinary research units. Some of the units include:
Archaeological Research Facility
Berkeley Stem Cell Center
Clausen Center for International Business and Policy
Institute of Cognitive and Brain Science
Helen Wills Neuroscience Institute
Theoretical Physics Center
The university's diverse courses and research opportunities make it an excellent place for you to study.
Health Risks for University of California, Berkeley International Students
Berkeley, California is a safe place for locals and international students alike. Violent crimes are infrequent, but incidents of pickpocketing and bag-snatching are possible.
Interior rural areas of Northern California are at risk of wildfires for most of the year. Wildfires burning through grass, shrubs, and conifer forests might cause breathing problems, even when fires are far away. Though the development of severe ailments is rare, it is advised to stay indoors in such a situation.
Summers are pleasantly warm on most days, with high temperatures rarely surpassing 75°F. However, occasional heatwaves are possible. Students should take proper precautions during stretches of hot weather by drinking plenty of fluids, and limiting time outdoors if possible.
Cover Your Risks with Health Insurance for University of California, Berkeley
Medical facilities in the U.S. are expensive. Your health insurance can be your financial safety net in case you suffer from an illness or injury. Your insurer can provide benefits for hospital bills for all covered expenses.
International Student Health Insurance for University of California, Berkeley - FAQs
Do international students need health insurance before joining the University of California, Berkley?
Yes. All international students are required to have health insurance in order to attend classes on the campus of the University of California, Berkley.
What's the need for the University of California, Berkeley health insurance for international students?
Health complications can arise at any time. Without insurance, you could stand to lose a substantial amount of money paying for treatment. With proper coverage in place, the financial risk can be lessened, allowing you to study and enjoy your time on campus with less worry.
How to find the best international student health insurance for the University of California, Berkeley?
To make sure you have coverage that fits your needs, it pays to do your research. Analyze and compare different plans from different providers. Research the differences in the plans that are available to you, and choose the one with a premium and coverage that fits your requirements.