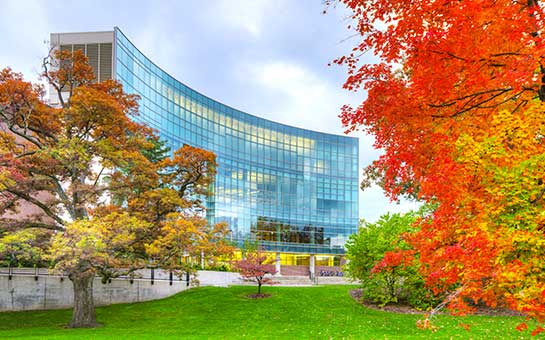 Michigan State University International Student Insurance
Michigan State University, located in East Lansing, Michigan, was chartered in 1855 by the state legislature. It opened in 1857 as the Agricultural College of the State of Michigan, and it served as a prototype for future land-grant colleges established under the Morrill Act of 1862. The first horticultural laboratory in the country was established there in 1888. The first women were admitted in 1870, and the first African-American student in 1899. The school was initially founded as an agricultural and mechanical arts institution, but as its curriculum expanded, its name changed several times—such as Michigan State College of Agriculture and Applied Science in 1925, and Michigan State University of Agriculture and Applied Science in 1955—before adopting its present name in 1964.
Today, MSU boasts one of the largest university enrollments in the country at about 50,000 students and counting each year. The school colors are green and white, and its athletic nickname is the Spartans.
Academic and Research Opportunities
MSU offers more than 200 undergraduate, graduate, and professional programs across its 17 academic colleges. Among them are the colleges of agriculture and natural resources, communication arts and sciences, business, engineering, human medicine, law, music, nursing, social science, and veterinary medicine. Thirty-three of the school's programs rank in the top 25 nationally by U.S. News & World Report. Its rehabilitation counseling program ranks first in the nation from that publication.
MSU is also known for its research initiatives. It operates a plant research laboratory in a partnership with the U.S. Department of Energy. Other notable research programs and public service facilities include the National Superconducting Cyclotron Laboratory, a center for continuing education in business, the Facility for Rare Isotope Beams, the Great Lakes Bioenergy Research Center, and the Institute for Quantitative Health Science and Engineering.
On Campus
Cultural points of interest on campus include the MSU Museum, which presents exhibits in the fields of anthropology, natural science, folk arts, and history; the Eli and Edythe Broad Art Museum; the Great Lakes Quilt Center; and the Center for Great Lakes Culture.
Notable Alumni
Notable Michigan State University alumni include basketball player Magic Johnson; film director Sam Raimi; actor James Caan; author Tom Bissell; science fiction author Timothy Zahn; and numerous professional athletes from the NFL, NBA, and NHL.