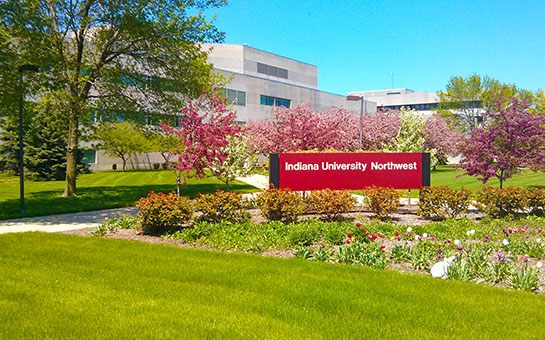 Indiana University Northwest International Student Insurance
Welcome to one of the most happening campuses of the Indiana University network. Based in Gary, Indiana, Indiana University Northwest (IUN) has been operational since 1963. Guided by a faculty team of over 350 (more than 70% of whom have doctorates), the 3,600+ students pursue over 70 different degree programs.
A faculty-student ratio of 1:14 makes individualized attention to each student a rule, not an exception, at IUN. With these resources, IUN continues to fulfill its mission of developing the community through well-rounded and high-quality education.
Indiana University Northwest Academic and Research Opportunities
The multiple programs that are available at IUN not only further the students' professional prospects, but also create a base for students to pursue higher education later on. Besides the regular, on-campus, full-time programs, online courses are also available for those who can't make it to campus. The five schools on campus are the schools of Arts & Sciences, Education, Arts, Health & Human Services, and Business & Economics.
Some programs include:
Bachelor's
Mathematics
Neurosciences
Chemistry
Business
Master's
MS Educational Leadership
MS Master of Liberal Studies
Master of Public Affairs
MBA
A wide range of associate degree and pre-professional programs are also available at IUN.
Health Risks for Indiana University Northwest International Students
Besides the academic assignments, there are many more things to keep you occupied in Gary. There is lots to explore here. The birthplace of Michael Jackson, Big Daddy's BBQ (which is arguably the best barbecue joint in the state), the beautiful beaches of Lake Michigan, walking trails, and county parks are just some of them. But, be sure to take precautions, especially on outdoor trips, and keep a watch on that barbecue binge!
Indiana does face some climate-related extremes in both summer and winter. Stay protected if you are outdoors during such times.
Cover Your Risks with Health Insurance for Indiana University Northwest
Health-related emergencies don't come with advance notice, but the treatment for them is sure to cost you a lot of money. So, it makes sense to get health insurance. It doesn't protect you from emergencies, but it protects you from the financial expenses of treatment.
International Student Health Insurance for Indiana University Northwest – FAQs
Do international students need health insurance before joining Indiana University Northwest?
Indiana University Northwest- Gary, IN offers health insurance plans to its international students. Each International student is automatically enrolled in the school health insurance plan with no option to waive, unless they qualify for an exemption. The exemptions are detailed below in the Insurance Requirement section.
What's the need for Indiana University Northwest health insurance for international students?
Many international students might find it financially challenging to pay for expensive medical care in the U.S. in the event of an illness or accident. Health insurance acts as a buffer against such expenses.
How to find the best student health insurance for Indiana University Northwest?
The majority of students attending IUN will be automatically enrolled in the IUN health insurance plan. However, if you would like to purchase supplementary insurance for extra coverage, or you need coverage for a dependent, you are encouraged to explore the health insurance marketplace on this website. There are a variety of plans that offer different levels of coverage to suit different budgets. You are encouraged to compare the details of several plans before making a purchase.