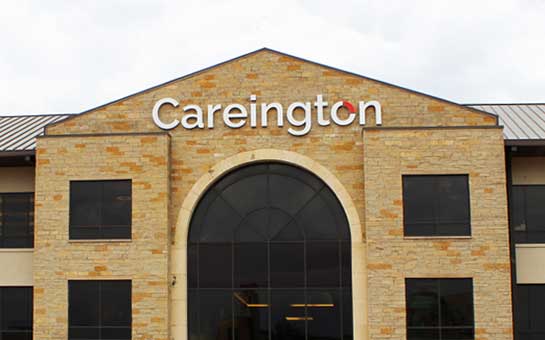 About Careington International Corporation
Careington International Corporation is a leading provider of discount programs for health, wellness and lifestyle services. The diversity and expertise of Careington's people create an extraordinary suite of products and services designed to provide unparalleled network provider access, significant savings and unsurpassed value to any client or customer.
Our Story
Careington is an innovative and pioneering part of the dental industry, delivering discount dental plans to local, regional, state and national clients, and providing more than 15 million members with access to our networks, products and services.
Our Mission
Careington is a responsive, solutions-driven company motivated by the people we serve. We are an established leader structured to design, develop and deliver industry-best products and services focused on individual health and well-being and characterized by affordability, integrity, transparency, simplicity and value. Our innovative solutions connect us to our clients, members, providers and producers - now and into the future.
Where it all began...
Careington was founded by two dentists in 1979. In 1985, we became a fully licensed and approved Dental Health Maintenance Organization (DHMO) in the state of Texas, where we were founded. American Dental Corporation, our predecessor company, was officially formed in 1992 and subsequently changed its name to Careington International Corporation, incorporated in 1996. That same year, the DHMO was sold to SafeGuard.
Our deep roots in Texas grew into a rich history in the dental benefits marketplace that now uniquely provides a well-known, well-established and well-respected international reach and can deliver international dental network access throughout the United States and United Kingdom.
Where we are now...
Careington's has grown on a global scale by providing more valuable products and services to clients and customers and by expanding our reach into numerous affiliates and brands, each completing a different piece of the puzzle and contributing to our ability to provide a first-class single-source solution: Careington BenefitSolutions, CareingtonLatino and Munroe Sutton.
Careington's Way of Life
Our organization has strong Frisco and community ties and an international reach, providing more than 15 million members access to our networks, products and services. At Careington, our winning team is our people. Their creativity, strategic thinking and hard work have a considerable impact on our success, and our people are our greatest asset. We would not be the company we are today without them.
Everyone at Careington is part of the team, and it's understood that working here is not just about having a job. Every person has the opportunity to make a meaningful contribution, and each of us plays an important role in the successes of Careington. Our employees take pride in the work they do at Careington, and the work they do here is both challenging and rewarding.
Careington International Corporation
7400 Gaylord Parkway
Frisco, TX 75034